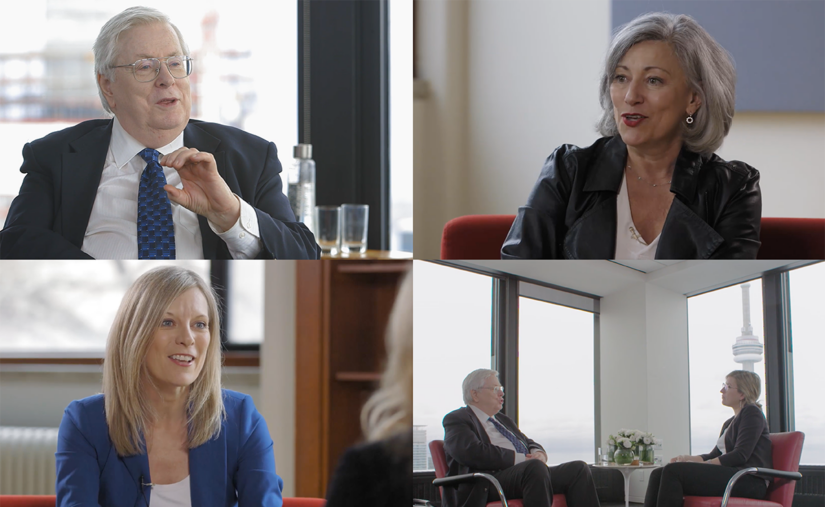 Photo © FICDC/IFCCD
The International Federation of Coalitions for Cultural Diversity (IFCCD) produced a series of videos on the protection of culture in trade agreements.
The videos cover the history of cultural protection in free trade agreements, the challenge of the national treatment clause, the content and scope of the 2005 UNESCO Convention on the Protection and Promotion of the Diversity of Cultural Expressions, the role of civil society and the issue of digital trade. These short videos (between 2 and 7 minutes each) are based on longer interviews with three experts on these issues:
Solange Drouin, Co-Chair of the Coalition for the Diversity of Cultural Expressions, Vice-President, Public Affairs, and Chief Executive of ADISQ,
Véronique Guèvremont, Professor at the Faculty of Law of Université Laval, Quebec (Canada), and holder of the UNESCO Chair on the Diversity of Cultural Expressions,
Peter Grant, Senior Counsel and past Chair of the Technology, Communications and Intellectual Property Group at McCarthy Tétrault.
History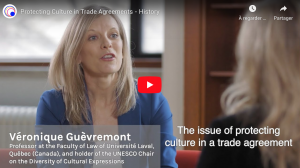 National Treatment Clause
The 2005 UNESCO Convention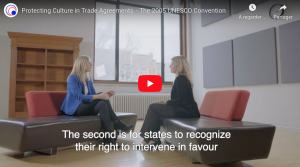 The role of civil society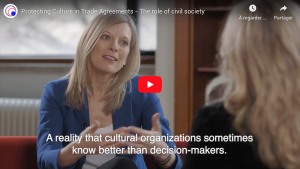 The challenge of digital trade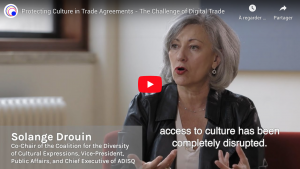 See long versions
INTERVIEW WITH S. DROUIN (in French)
INTERVIEW WITH V. GUÈVREMONT (in French)
Protecting culture in trade agreements
Interview
IFCCD, CDCE
12 May 2020
Trade agreements, cultural clauses, cultural policies
Film direction : Mathieu Quintal