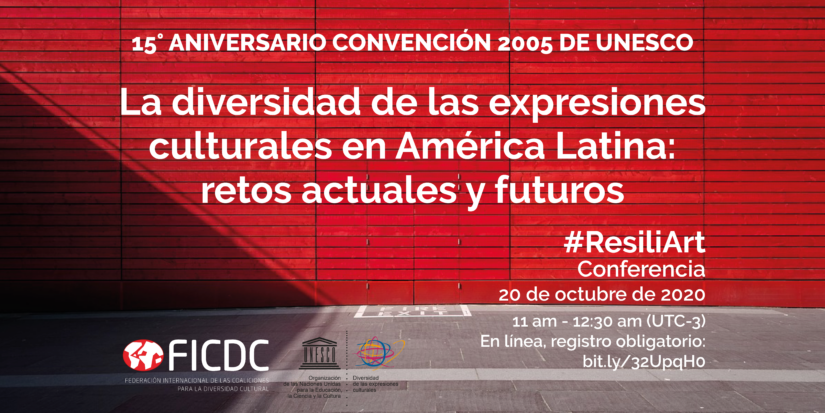 The IFCCD is organizing a regional virtual conference* on October 20 from 11:00 am to 12:30 pm (UTC-3) on current and future challenges for the diversity of cultural expressions in Latin America.
This conference is organized within the framework of ResiliArt, a global movement initiated by UNESCO, which aims to strengthen the resilience of artists and cultural professionals in the face of the enormous challenges posed by the current health crisis.
*The conference will be held in Spanish.
The IFCCD wishes to take advantage of the 15th anniversary of the 2005 Convention on the Protection and Promotion of the Diversity of Cultural Expressions and the Day of Cultural Diversity in Chile to raise awareness, inform and mobilize Latin American civil society around the Convention.
The coronavirus pandemic has had a significant impact on Latin American cultural environment. The containment measures related to the pandemic have severely limited capacities for the creation, production and distribution of cultural expressions in the region. Today, some Latin American countries continue to face a very unstable health situation, while others are beginning a recovery process that promises to be long and difficult for the creative community. The crisis has exacerbated inequalities in access to cultural goods and services. It has considerably weakened the professional, social and economic situation of many artists and cultural professionals and has seriously affected the already fragile cultural ecosystems of the countries in the region. The crisis has also led to abuses and violations of cultural rights. It has finally created a very paradoxical situation: while creators and professionals in the sector have found themselves in a dramatic economic situation, the giants of the Web have made huge profits from the dissemination of cultural content online.
The objective of the conference is to present the 2005 Convention, its clauses, principles, its relevance in the current context of crisis and the means to use it to meet the challenges faced by cultural organizations in the region. The conference is aimed at artists, creators, cultural professionals and civil society organizations and should enable them to learn more about the tools available to them to defend and promote Latin American cultural expressions. It also aims to stimulate mobilization at the local and regional level, within the framework of existing networks such as the IFCCD, through the formation of national coalitions.
The Diversity of Cultural Expressions in Latin America: Current and Future Challenges
IFCCD event
20 October 2020
Online (link coming soon)