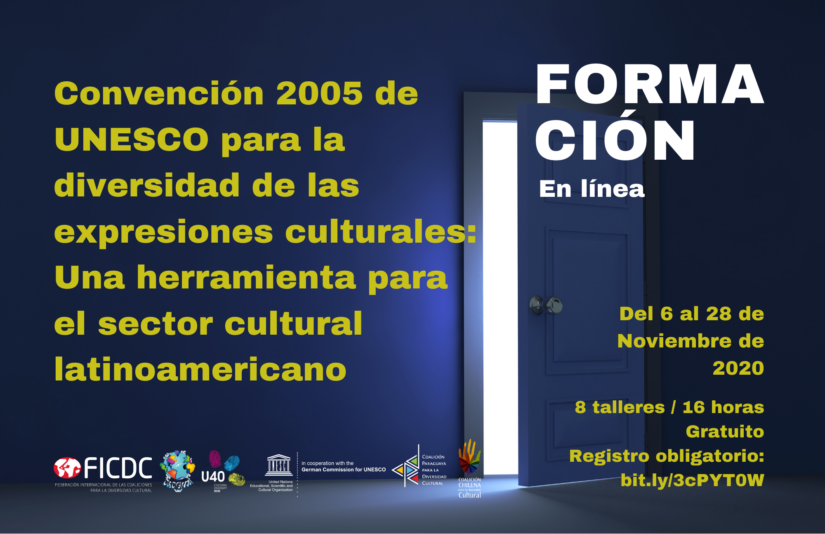 The International Federation of Coalitions for the Diversity of Cultural Expressions (IFCCD) organized a training program in Latin America on the 2005 Convention on the Protection and Promotion of the Diversity of Cultural Expressions.
In partnership with the German Commission for UNESCO, Creatividad y Cultura Glocal, the U40 Network and the Chilean and Paraguayan Coalitions for Cultural Diversity, the IFCCD invited artists, creators, independent producers, distributors, broadcasters and publishers in the book, film, television, music, performing and visual arts sectors, cultural professionals from the public and private sectors and civil society organizations in Latin America to participate in the Spanish language training program "2005 UNESCO Convention for the Diversity of Cultural Expressions: a tool for the Latin American cultural sector" from November 6th to the 28th, 2020.
The program aimed to mobilize cultural networks in Latin America and to reach people who were already doing the work of the 2005 UNESCO Convention in their local area but may not be aware of it. The aim was to give them opportunities to expand their networks at the national and regional levels, to provide a better understanding of the tools they had at their disposal to defend and promote Latin American cultural expressions and their diversity, to increase the visibility and reach of the IFCCD in Latin America, and to bring the Convention closer to professionals in the public, private or civil society sectors who were already working in or wanted to work in the cultural sector.
PROGRAM FORMAT :
This online training consisted of eight sessions in November. The duration of each session was 2 hours, for a total of 16 hours for the program.
2005 UNESCO Convention on the Diversity of Cultural Expressions: a tool for the Latin American cultural sector
IFCCD event
From November 6 to 28, 2020
Online